… or how to pair Romanian New Year's Eve menu with Romanian wine…
30 december 2020 By Julia Scavo DipWSET
Every single decent French sommelier textbook includes a list of the major enemies of the wine. One can read among others that dishes and aliments such as soups (especially broth), salads, raw or simply boiled vegetables, eggs of any sorts, vinaigrettes and by extension all that contains vinegar (pickles for instant), smoked dried meats or smoked fat fishes are to be avoided when it comes to food and wine pairings. Most of the desserts need particular care too. Moreover, the more you line up dishes, the more your taste buds get tired and their tolerance changes to the products that come next, both to solid and liquid.
When I quit Romania 18 years ago and headed for France, I didn't know how to cook. I then learnt the French cuisine and for a long while Romanian food was an exotic cuisine I only ate by curiosity once or twice during some holidays passed in my native country. Beside that I taught my grand-mother French recipes and only swear by that whenever at home in Romania.  My father is in incorrigible Francophile so it was compulsory to cook French whenever I visited them at home and whenever we went to a restaurant in Romania, he searched for French-style bistros and was very proud to tell the chef I cooked French.
Romanian classics have always been to me like a "madeleine de Proust", I remember their taste, even though I do not cook like a Romanian mama.  However since a while I have been experimenting with some recipes or tried to recreate some of them only following my tasting memory. Last year I cooked my first "sarmale" for Christmas and I have recently revisited some classics in a more Frenchie way.
This to explain that when it comes to pairing Romanian food and wine, I shouldn't be regarded as a "guru". However, when it simply comes to pairing food and wine, none should be a "guru". We all have personal preferences and different tolerance threshold, so this should be respected.
Nevertheless, principles do exists, which brings me to my first paragraph. Here is the link with the Romanian feasting season's menu which most of the food pairing principles make it difficult to match with wine.  Let's draw a draft of a classic New Year's Eve program for most of the Romanians:
First they share a myriad of platters including different cold cuts, either smoked, or spiced up with paprika, most of them based on pork meat and pork organs. Besides that, this reminds the balkanic principle of the mezzes with "tarama" roe salad – Romanian use carp, pike perch or trout instead of the Greek style code roe, "mimosa" style eggs of stuffed mushrooms, olives, lots of pickles, and the mythical "salade boeuf". Salty puff pastry stuffed with meat, cheese or vegetables can come along. Some can add smoked fishes such as herring or mackerel. Not to forget the traditional aspic jelly which can also be eaten after midnight.
Sweet water fish can make the intermezzo before getting to the masterpiece of every single Romanian mama: the Sarmale! Rolled lacto-fermented cabbage leaves stuffed with meat and traditionally accompanied or not with sour cream.
When it comes to meat most prefer pork, as there are many superstitions that forbid poultry.  However, habits change and some prefer turkey to pork nowadays.
All finishes with the dessert, and traditionally the New Year's cake includes small messages "ravase" – kind of fortune-teller texts for the year to come.
Those who are still hungry can get some aspic jelly after midnight and by the time the roosters start singing, guests can be revigorated with "ciorba de potroace" – a consistent broth made of less noble poultry cuts and organs and soured with lacto-fermented cabbage water.  
Now, one can understand the beginning of my article. Eggs are almost everywhere, salads start the ball, pickles and sourness follow the stream to cut through all these fatty goodies. Not to mention loads of smokiness from the beginning to the end.
Broth is optional but the dessert is always compulsory and very tricky – most of the time this is "pain de Gêne" generously wetted with some rum scented syrup with lots of candied fruits, chocolate and Chantilly.
My sake is not to scare you, but pairing this with wine is a Challenge. And I love challenges. Let's start!
Most of you know I love bubbles, and while the perfect aperitif is definitely Champagne, I will do it more in a local way. Romania offers the choice with bubblies, either Traditional or Charmat method, using both Romanian and international grapes. My personal taste inclines for more acidity, while the climate here is warm to sometimes moderate and the acidity level is more on the medium side. My recommendation is to search for cooler spots in Crisana for instance, in Minis, or to go to Târnave, as well as places moderated by some altitude such as Drăgăsani. Although a Romanian sparkling will do the job throughout the starters, some pair better with some items then others.
Tarama and "Clarus" from Balla Geza, Cold cuts and "Prince Stirbey" Rosé, Puff pastry and Carassia Blanc de Blancs from Carastelec, smoky items with the Cuvée Celest from Villa Vinea. Most of these cuvées offer an extended lees contact which enhances the umami taste in the wine and provide fuller body, with layers of texture as well as flavors' complexity. The difficulty with all these starters is that they contain umami which minimizes the body of the wine, makes it feel harsher and more astringent and less fruity. They are fortunately all salty which helps pairing umami better. And since most of the wines have a low dosage and elevated acidities, salt will help them fell smoother and enhance their complex aromas and flavours. Their acidity however will allow them to cut well through the fattiness of the starters, while having bubbles creates the same effect, adds layers of texture and exhaust the tastes. So forget about the classic hot tuica and dare Romanian sparkling wines. Or try a țuica sour cocktail (Ecaterina Paraschiv's recipe).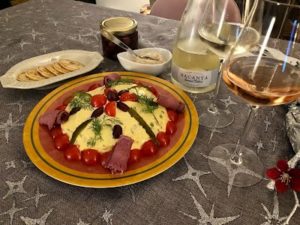 Something to avoid, would be oakiness in white or rosé wines which adds smoky, toasted character and phenolics. Smoke upon smoke is too much and umami will make the phenolics feel hard. Unoaked whites with slightly aromatic character and lively acidity can cut through the fat while refreshing and cleansing the palate between two bites. Chose a Sarba "Special Edition" from Crama Gîrboiu or a Mustoasa de Maderat from Crama Maximarc.
The red is of course FORBIDDEN as tannins coupled with acidity will be enhanced by the effect of the umami, worse than for oaky whites and rosés that only have phenolics.
What about the "salata boeuf"? None of Sanda Marin's recipe books mention this classic that every single Romanian eats since the earliest stages of his/her life. However she mentions the "salade russe" which as its name does not indicate was invented by a Belgian Chef – Lucien Olivier in charge of the Moscow restaurant L'Ermitage". Some also call it Salade Olivier and it was meant to be made with shrimps, or duck breast or even lobster. The Romanian version uses beef, hence its name, but some prefer the chicken version, in which case it shouldn't be called "salata boeuf". But none respects that, even the vegetarian version is called so!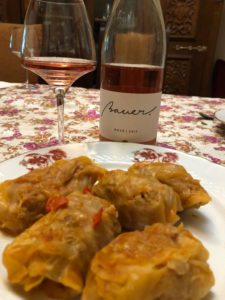 Sarmale is the next step. Difficult challenge: lacto-fermented cabbage that brings sourness, concentrated tomato sauce filled with umami, aromatic herbs and smoky bacon as well as fatty character on the whole. Not to mention the sour cream and again some pickles on the side. Avoid RED, this should be the first rule. Or if you really wish a red pairing choose a fruity, juvenile one such as the Ferma Magureni Negru de Dragasani "Pasiuni". They can also have a good alternative with the Orange version of Pinot Gris in the same range "Pasiuni". If you like Orange, than definitely go for Bauer's who also offers my favourite pairing for sarmale: his Rosé Negru de Dragasani (the terrors of sarmale -)))!) which you should choose on 2016/2017 vintages to express some noble evolution with some oriental spices. From the same winemaker, but the sister winery – Prince Stirbey "Rosé" made of Novac, bearing that smoky varietal character, with fresh acidity, tiny tannins and lots of spices on the fruity background. If you have the chance to grab Oliver's J.O.H.A.N.N.A chose an older vintage (2014 edition for instance) and open it previously or use a wine glass. Decanting could sound shocking but it helps, done in a gently way, in an adapted white wine decanter, one can lose some bubbles from this UFO Sparkling but will definitely maximize texture and complexity. The Feteasca Regala-Pinot Gris blend from Avincis needs soma aging, but when it turns around 5 years it pairs fabulously with sarmale. One can even grate some Transylvanian truffles on the top, it will even be better!
So when will one drink some red? Pork and turkey are not the best pairings with the fullest reds, but chose medium bodied wines such as the Cabernet Franc "Perfect Simplu" from Laurent Pfeffer – Domaine Catleya, or the Pinot Noir "Crai Nou" the most Burgundian Pinot Noir in Romania, Denis Thomas' signature from Domeniile Franco Romane. Fuller but with elegancy, Davino's Feteasca Nragra Monogram with the most "piemontese" wine in Romania, the Prince Stirbey Novac with some bottle aging will be just gorgeous. If you enjoy white wines here are some ideas: Prince Stirbey Feteasca Regala, Licorna Winehouse ANNO Chardonnay- Sauvignon Blanc or the Bacanta Sarba Barrique from Crama Gîrboiu, star of their range in my opinion.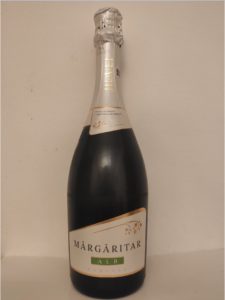 If you prefer full bodied reds, cook some venison. Some do that in Romanian, especially in the mountainous regions. Wild boar or deer will be perfect matches for some of the best Feteasca Neagra in the country: Trei Fete Negre from Aurelia Visinescu or Guy de Poix from SERVE. Avoid too much barrique as it will enhance the tannins and will not match the umami from the game, the best being older vintages, to get some tertiary and smoothen the tannic structure. I would also choose the Davino Rezerva 2013 with its Bordeaux character or the Cabernet Sauvignon Rezerva 2010 from Prince Stirbey with its Tuscan touch. If your sauce includes red or black fruits, wine reduction or some sweet compounds, go for the Semi-sweet Feteasca Neagra Gramofon – "Opus Fabula" 2019, more on the semi-dry character, with elevated acidity and grainy tannins, its pristine fruit, its vibrancy, its elegancy will make you forget the residual sugar you actually need for such a pairing.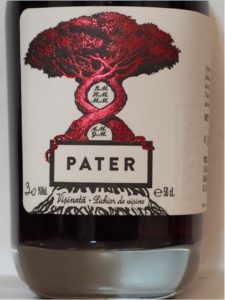 Romania used to be known for its sweet wines in the past, but style has changed and evolved a lot, so has the customer's mentality. A lot avoid dessert wines. Such a pity, as if you have sugar in the dish, you should at least have the same level of sweetness in the wine. And Romanian desserts scream diabetes! For classic "tort cu ravase" as described above, it is quite difficult to go Romanian. An LBV Port would take the challenge, but nothing to stand up in the Romanian landscape. Cozonac brioche with candied fruits, raisins, Turkish delight will pair with most of the late harvest styles in Romania while more fruity desserts, with orange and tropical fruit will search some botrytis. Corcova Sweet Wine made of sauvignon Blanc and Chardonnay, with a hint of noble rot is a perfect match. There are some goodies from Liliac such as their Straw-wine or the Ice-wine, both without botrytis obviously, but these are rarities.We all love to pop up the cork at midnight, but beware of bubbles with dessert, as these are perfect enemies, unless you choose and aromatic sweet sparkling. Most of the Bubblies are too dry for sweets and their bubbles enhance the fresh fell and make them even drier. So forget about tradition, pop up your cork if you wish to celebrate, drink you Sparkling glass while watching the fireworks, but do not use it for any pairings at this stage!
What comes further won't need any wine, since aspic jelly with boiled meat and broth will never really pair with. So enjoy the rest of the night and maybe finish your sparkling open by midnight. Free to choose your after dinner drink too, I advise you some classy traditional fruit brandies from Pater.